Regular price
$99.95 USD
Sale price
$59.99 USD
Unit price
per
Sale
Sold out
---

"

I have to tell you I was SO skeptical that anything so simple could really alleviate something as painful and intrusive as a bunion, but, WOW! I wear them after I get home and until I leave the next day, so about 10-12 hours a day most days. Not only has my bunion gone way down, but, it is no longer painful. Please feel free to share this unsolicited review. I love my Alpha Sole's!"
- Gabrielle.H, II Bunion Corrector Customer


Gender: Unisex.
Item Type: Foot Care Tool

Material: Breathable, soft, and comfortable cotton with velcro straps.

Size: One size fits most
*Comes in a pair (left & right foot)

Description: The Orthopedic Bunion Corrector will naturally ease discomfort from bunions and help to repair them without the slightest inkling of pressure or pain. You will feel a sense of relief as soon as you put the corrector on after a tough day. It is made with extremely soft, medical-grade material that prevents blisters, tenderness, and irritation from rubbing against surfaces or footwear.

How to wear the Alpha II Bunion Corrector:

1) Lay the corrector flat on the ground with the two aluminium support straps laid out flat beside. The small strap should be adjacent to the big toe and the larger strap adjacent to the foot.

2) Now, start with the small strap. Put the puller head between your thumb and forefinger and wrap the small strap tightly around the base of your big toe, attaching the velcro when you can't wrap anymore.

3) Now do the same with the larger strap, wrapping it tightly around your foot until you can attach the velcro on the top of your foot.

*You can use the velcro straps to further adjust them to your comfort but make sure they're nice and snug. You'll need to tighten the strap until your big toe is totally straight, creating pressure (but not pain).

View full details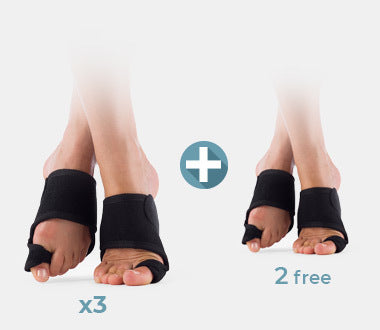 Collapsible content
Product Benefits and Details
Fabric & Care Instructions
Featured In



COPPER SOCK
NORMAL SOCKS