I
FINALLY

Found Compression Socks That

Aren't A Workout To Get On

...AND Provide Optimal Support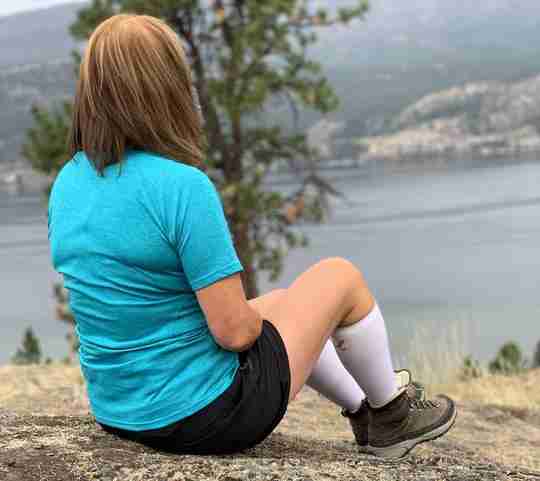 I can't be the only one who broke out in a sweat trying to get my compression socks on…

When I started to get severe foot pain about a year ago I went to my doctor and he suggested I try wearing compression socks to work. I mean I would be lying if I told you I was excited to wear compression socks (they aren't the sexiest thing on the planet).

BUT I learned that foot pain is something almost every American experiences at some point during their life…so I was not alone! Phew!

So, I took my doctors advice and purchased some compression socks on my way home from the appointment. I got home and decided I should start the healing process right away! Queue *sweating*... how do they expect people to get these on. I was dripping sweat and my hands were killing me from struggling to get the socks up my calves. Needless to say I didn't wear these socks very much cause they took me way too long to get on (and I don't need a workout while putting on socks.. thanks).
"I started to notice some dark blue veins showing up on my legs."
I let a few months go by without wearing any compression socks...until I started to notice some dark blue veins showing up on my legs. This is when I learned there is ONE big sign that your body is headed down a dangerous path…and that's the appearance of Varicose Veins (the dark blue veins)!
Varicose veins are a sign that your heart is working overtime to pump blood through your body, and you should do something about it right away!
I started to research what to do about Varicose Veins and the number one thing I found was...you guessed it - compression socks! UGH. Well I guess I should get used to those morning sweat sessions while putting my socks on.

Ya...that lasted about a week.
UNTIL my good friend suggested I try Alpha Sole's Copper Infused Compression Socks.
thing about my Alpha Sole socks is I got the confidence to start hiking and cycling again! Since my feet and calves were finally getting the support they needed during the day, they were still plenty energized and strong enough for me to enjoy after work activities! (Something I haven't been able to do for over a year.)

After about a month of wearing the socks everyday, I noticed my varicose veins were improving! They didn't throb as much after a long day and the dark blue color was starting to get lighter and lighter.

My husband even pointed out that my legs looked great and asked if I was getting laser treatments done on my veins. It was like music to my ears.

It might have been a mix of wearing the socks and adding exercise back into my routine, but either way, my legs haven't looked or felt this good in years!

If you're planning to try compression socks to get foot or leg pain relief, I highly recommend you start with the Alpha Sole Compression Socks!


They are currently having a SALE! If you're not happy with it, you can always return them for a full refund. They have the best customer service - I can't rave about this company enough.
-- Sarah. H
"They are amazing!!! I seriously never thought socks would make that much of a difference but after 12 hour nursing shifts my feet aren't even tired anymore ❤️"
- Jennifer.O, Copper Infused Compression Socks Customer


***Measure your calf circumference at the widest point.
The Alpha Copper Infused Compression Socks (15-20mmHg) are a technologically advanced solution to improve blood circulation, reduce swelling, revive tired feet and legs and control odor caused by bacteria. Unlike most compression socks, our copper infused compression socks provide maximum support while also giving the user complete full range of motion and comfort.
Copper ions embedded into the fabric turn the regular material into natural, non-chemical, long-lasting, germ-fighting material that protects your skin from a host of bacteria, odor and other potential infections.

✔Reduce Swelling
✔Enhance Circulation
✔Control Foot Odor and Bacteria
✔ Travel support
✔ Improve athletic performance
✔ Speed post workout recovery
✔ Speed surgical recovery
...and more!

How to wear the Alpha Copper Infused Compression Socks: 

First, take a shower or wash your feet, making sure to dry them thoroughly, especially between the toes to prevent athlete's foot.
Put them on in the morning when swelling is lowest.

Sit in a chair with a back for support.

Hold the top of the sock with one hand. Then with your other hand, reach inside the sock and push your arm all the way through until you grab the toe.

When you have a firm grip on the toe, pull your hand back through the sock, turning it inside out but leaving the tips of your fingers in the toe of the sock.

Put your toes into the toe of the sock, and gently roll and slide it back over your heel.

Then use your fingertips or palms to slowly roll and slide the sock all the way up your leg.
The Alpha Copper Infused Compression Socks can go straight into the washing machine (hang to dry in order to prevent stiffness). 

We recommend you buy 2 pairs so you can still heal your legs while the first pair is being washed. You should wear your compression socks consistently every day if you want to see visible, fast results.

*Material: 70% Polyester, 10% Nylon, 10% Spandex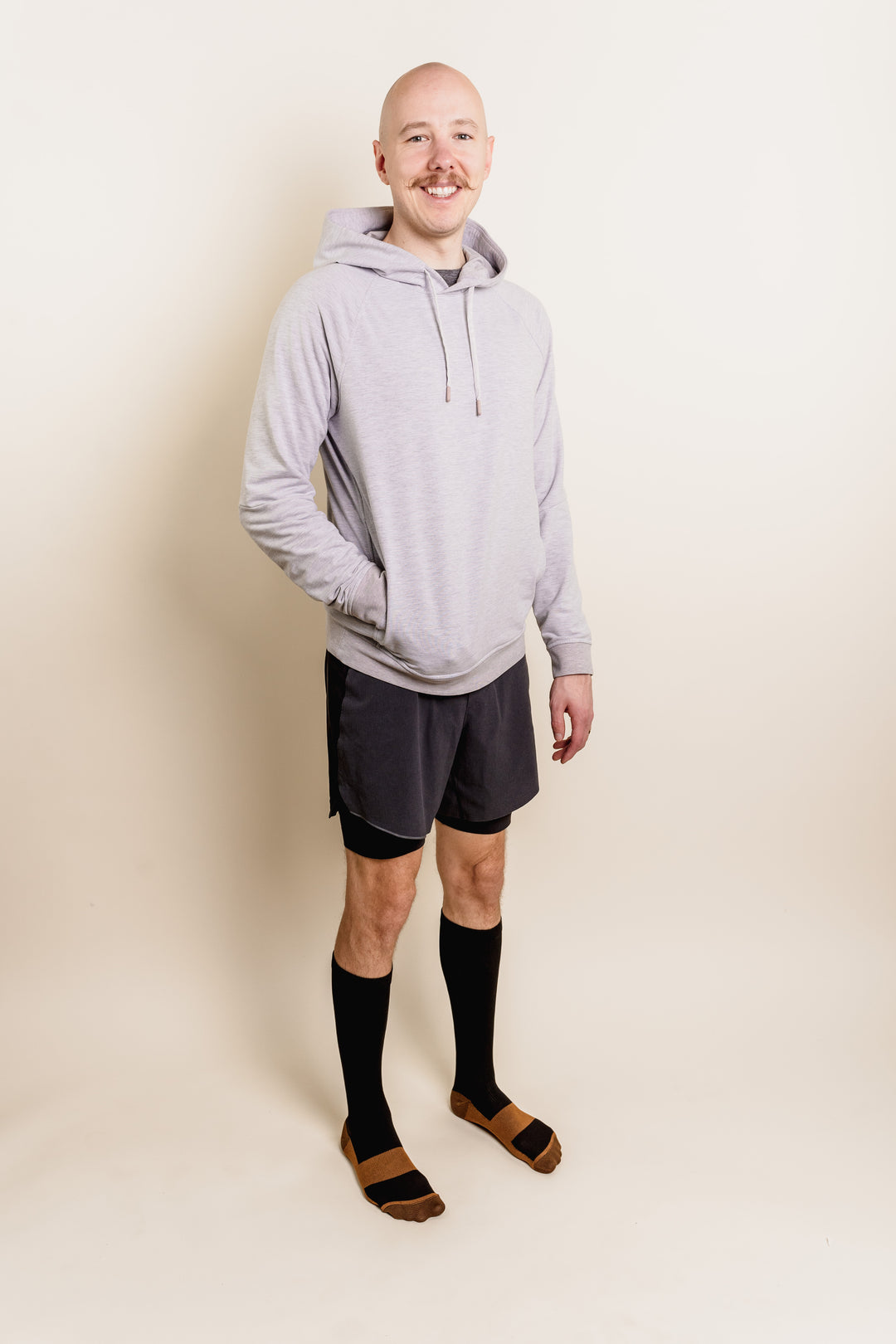 Sorry, There are no Articles